How to enjoy "Forest Therapy"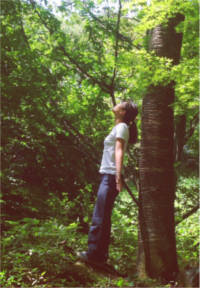 Just by simply standing in the forest, we can feel relaxed and rejuvenated. There is a key to enhance the experience of feeling the power of the forest effectively. It is the "five senses" that humans possess. Human beings originally inhabited in a natural environment. Today we live in a modern artificial environment which is different from the original living environment and this is very stressful on us. "Forest Therapy" has a great effect from the viewpoint of reducing stress from today's environment, and is said to have a positive effect on the psychological state of mind. The basic way is to let nature enter your body through all five senses. Through the ears, eyes, nose, hands, feet, taste, we can feel the trees and wind in the forest. We advise individuals to find the most relaxing method that is best for them. Although the trigger to what makes us feel relaxed varies, we will realize that we enjoy being in nature and that are made to fit in a natural environment.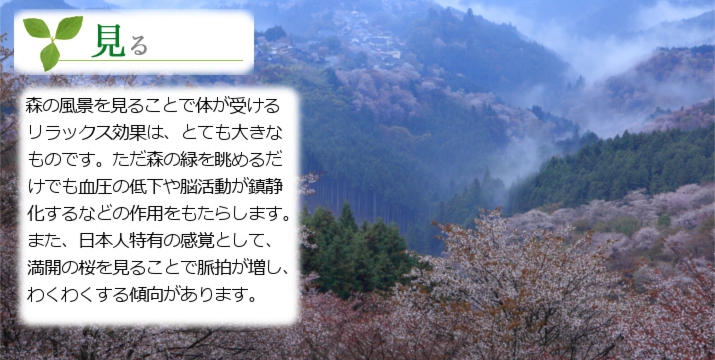 見る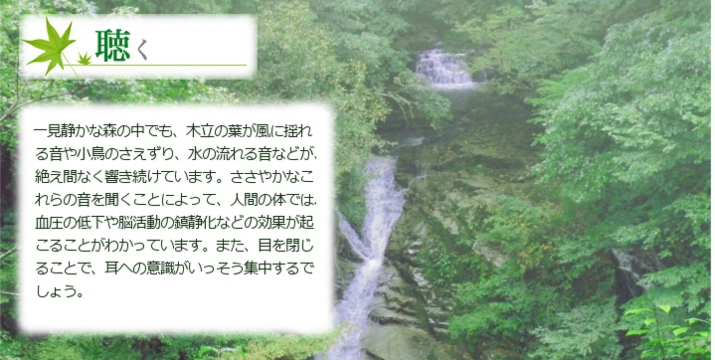 聴く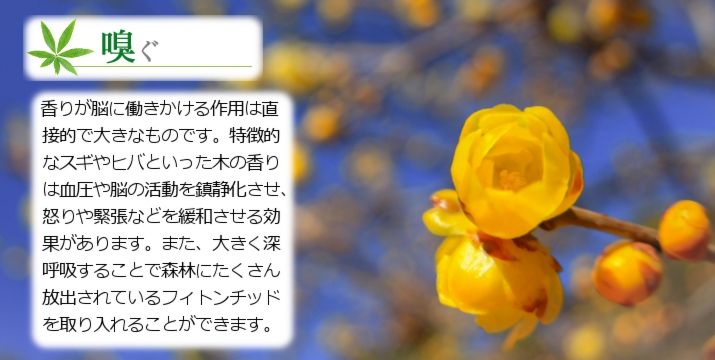 嗅ぐ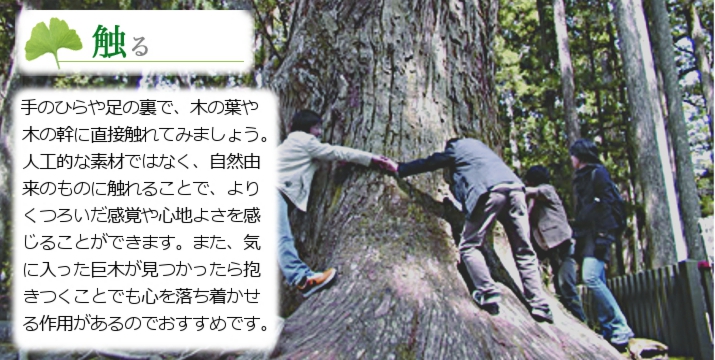 触る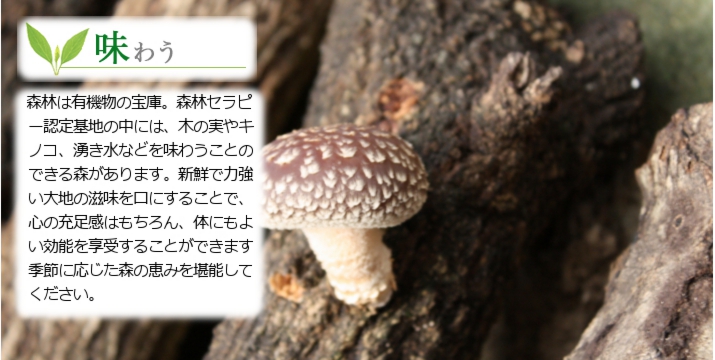 味わう

How to make the most of your time in the forest
Walking in the bright and refreshing forest to enhance its powerful effect, makes us feel rejuvenated. There are various types of forests to meet each visitor's preferences. We advise visitors to learn about the forest before visiting to see if it matches with their needs or interest to fully take advantages of the"Forest Therapy" experience. Take your time to find your forest that makes you feel the most relaxed.


How to enjoy "Forest Bathing"
○ Select the forest you feel safe and secure visiting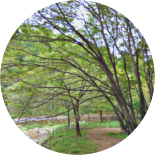 We can not expect to obtain relaxing effect from every forest. For instance, when there is noise , pollution and difficulty in walking, it makes it harder for us to be relaxed."Forest Therapy Base" and "Therapy Road" are certified based on scientific studies with evidence on the relaxing effect that anyone at anytime can experience "Forest Therapy" safely. Also, walking with a guide who has knowledge of "Forest Therapy", should increase the level of comfort and the relaxing effect by being in a selected environment which fits your needs.

○ Find your preference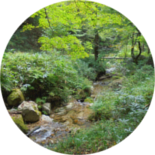 It is vital to find your preferred forest that provides "Forest Therapy" because a personal sense of values is greatly reflected for a relaxing effect.
When checking characteristics of different "Therapy Road"areas or actually walking the paths, we can enjoy the forest through the five senses: observing seasonal changes, bird singing, the forest fragrance and the soft breeze of the wind . Through various programs that "Forest Therapy Base" offer, we can find your own preferences as to what types of forest environment or activities you feel relaxed in the most reflecting your value and interest.

○ Taking your time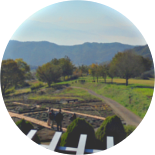 There are various activities that visitors can participate in "Forest Therapy Base". By trying different activities, you learn and experience health management and relaxation. To make use of the relaxation effect effectively, it is vital not to set time constraints or be in a hurry. Learning about yourself by taking your time, is good medicine for rejuvenation.